by Anuj Guglani
It was last week October this year. Our ride to the hills was the Kia Carnival Limousine Model. I drove down myself. Took the family along. It's a Road trip family still recollects with great joy and the Carnival played a big role in it.
However first impressions weren't that great. It seemed really Huge. I thought about how I would drive this monster. When I got in, The Instrument Panel & steering looked overloaded with controls and gadgets. They seemed distractive. I felt "Panga Le Liya Bhai".
This car may look huge and intimidating at first sight but it takes under 10 minutes to befriend you. It took that much more time to get a grip over the basic controls. Next 1 hour I was exploring the finer controls and operations. By the next day I was a Pro! at driving, controliing and riding in the Carnival! And that holds true for the entire family. You should have seen my 5 years old Kid remotely operate the sliding doors and the tailgate!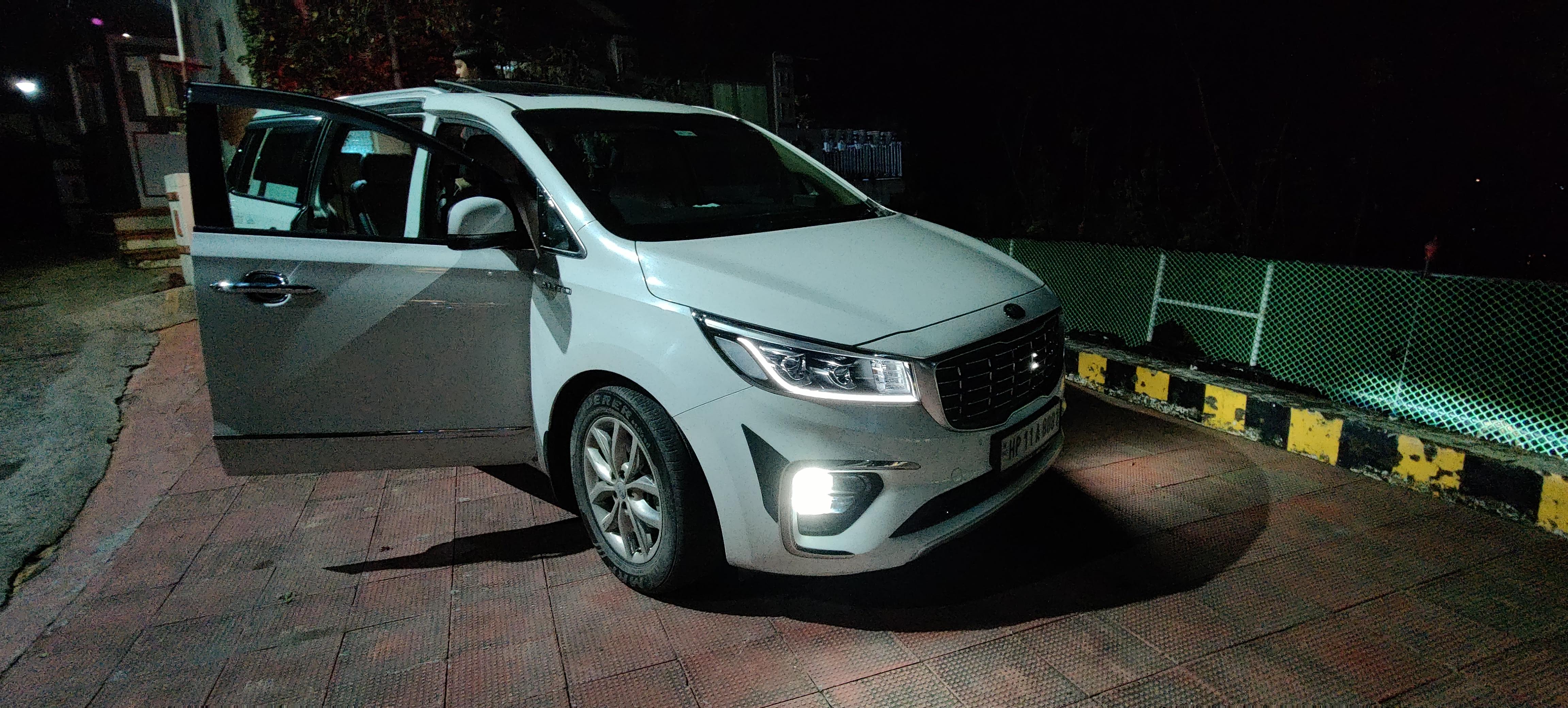 Driving this Huge Car
Most people advised, take a driver and not self drive. Covid precautions and need for privacy helped make our mind faster for self drive.
After driving for 25 km or so, you get really comfortable with the car's dimensions. Yes its huge, there's like an extra length back there but guess what ? Its Manageable due to the cameras, sensors and most importantly the design and great visibility.
It was just 'ONCE' throughout the 1k km drive that I had to open the drivers door for a peak outside while reversing.
Stability
The Carnival is exceptionally stable especially at high speeds. Though I hardly crossed 80 kmph speed as each time I crossed it, the Overspeed alert chime would come. It wasn't a buzzer but a gentle chime. Family would ask what that sound was. When I told them about it, I couldn't cross 80 kmph speed "EVEN ONCE" as a louder high speed alert would come from the family!
Driving Experience
The carnival has a great power on demand. It lunges forward like a tiger if you floor the pedal. Probably it took the tiger nose grill too seriously! The kids used to love the sudden acceleration on the highways.
It was handy while overtaking long trucks and trailers. In fact this great power on demand made a few petrolheads take offence when they got overtaken suddenly and they mistook it as a challenge to race. But I was on a 80 kmph leash aka speed limiter due to family alert chime!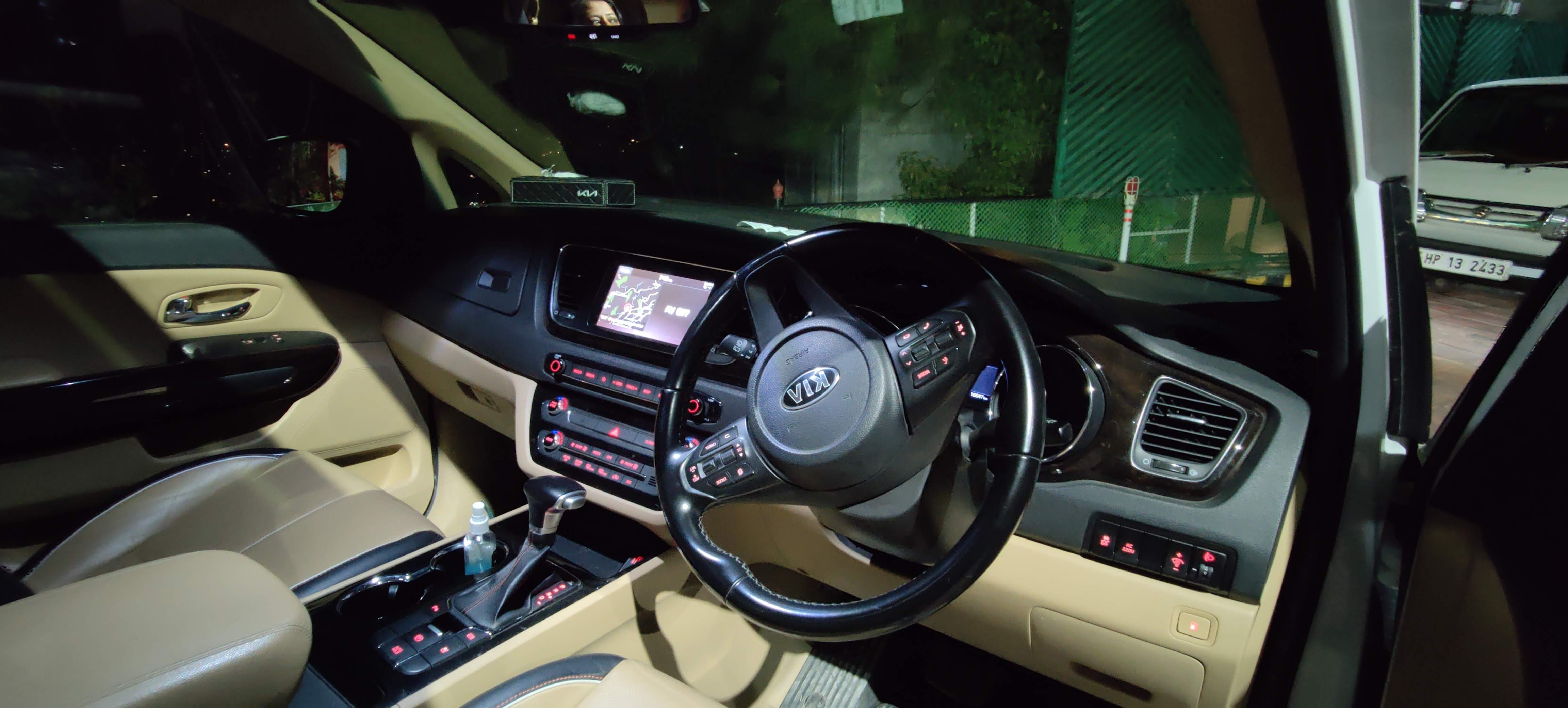 Ride & Handling
The ride is fantastic on a plain road. Despite the long dimensions, there isn't any roll or pitch. Infact till you look behind or in the RVM you don't really realise it's a long car.
However when the road gets bad, the ride gets a bit bumpy. Also the ground clearance is a bit low so you really have to be soft on the bumps.



Driving Experience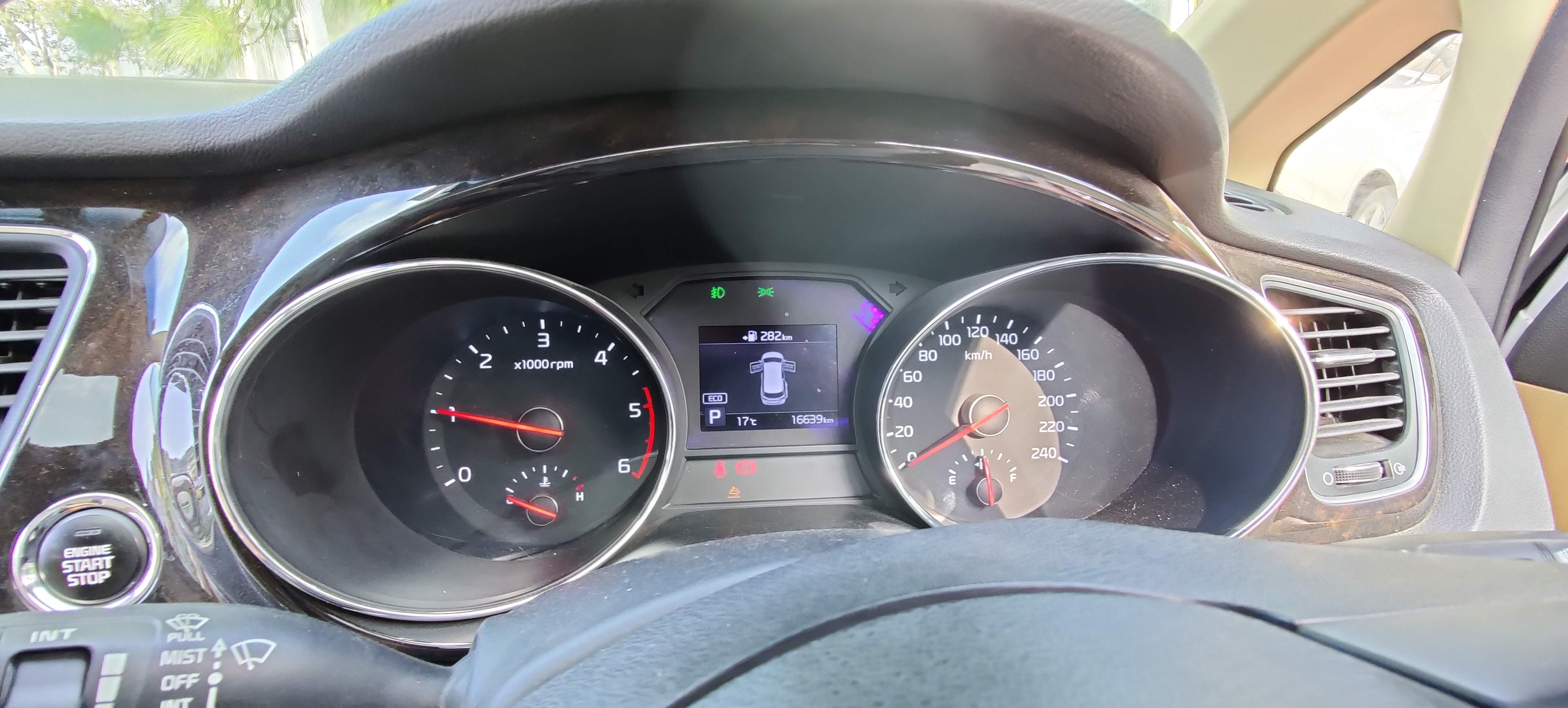 Hold Feature
It's an intelligent car. In the hills the feature I used the most was the "Hold" Feature. Whether I was on an accent or a descent, If I had the hold button pressed, I could lift my foot off the brake pedal and the car wouldn't move an inch. Extremely useful feature while maneuvering on sharp turns in the hills when you have to suddenly need to stop and go. It was a huge support especially when you needed to reverse on a sharp turn on a descent.
The only thing is that you have to remember to engage the hold before you drive off as it resets to default "Off" each time you switch off the engine.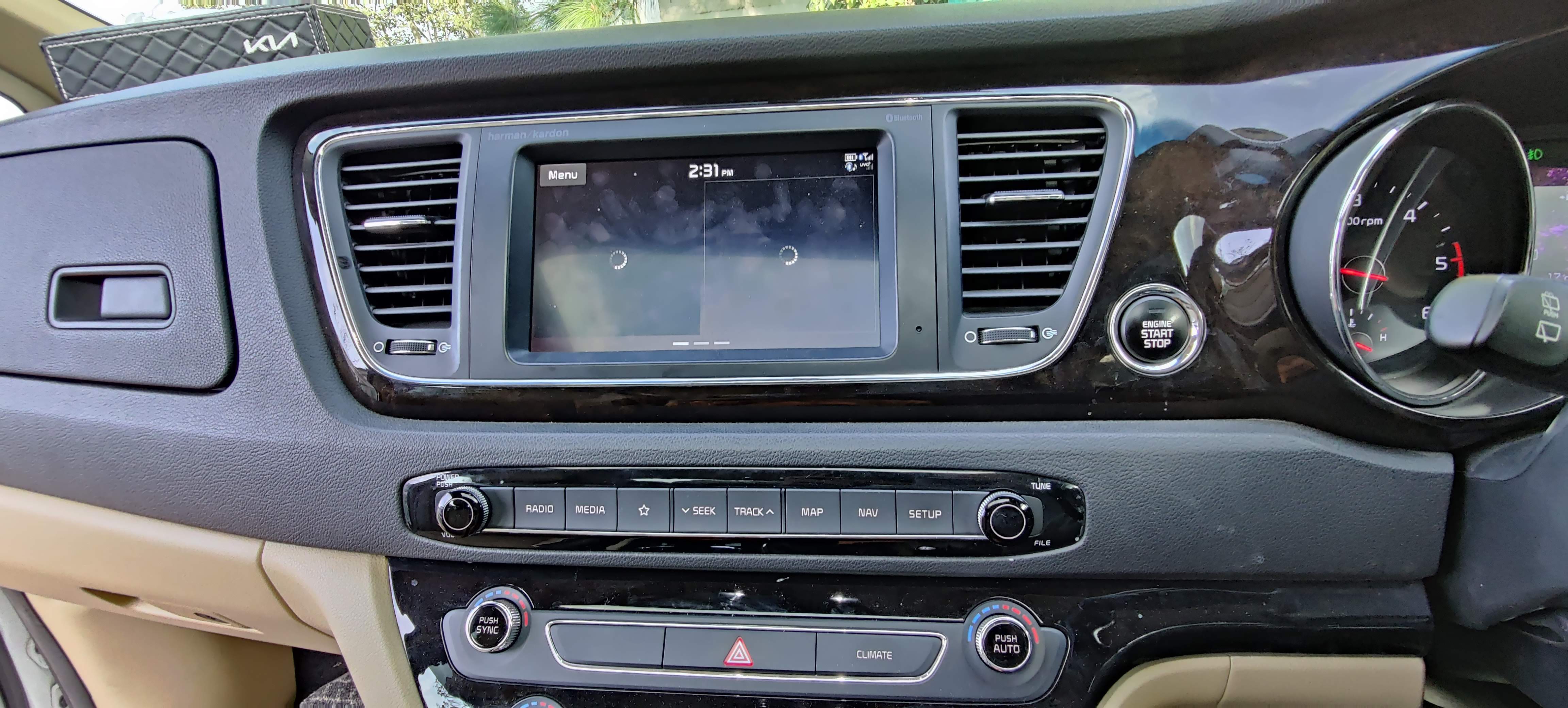 Cruise Control
Despite the steering full of controls, it doesn't take too long to learn to engage cruise control while driving without looking at the wheel. It worked seamlessly and helped reduce driving fatigue in the plains before we reached Himachal.
Automatic in the Hills. Are you Serious ?
AT was fine in the plains but the moment we began the ascent to the himalayas, it was getting confused. So I quickly switched it to manual and guess what, it worked better than a manual. It seemed manual had evolved! It was smooth to shift up and down. Mostly one had to shift between second and third gears in the manual mode and it was a breeze.
Space
This car treats you like a King when it comes to space. The second row first class style captain seats have all the bells and whistles for lower back , neck , shin supports. The leg rest swings upon to make it a lazy boy still lounge seat.
Even the third row has a lot of space. My younger kid had actually proclaimed and claimed the third row as his personal lil studio apartment!
The Biggest USP is the huge boot space you get without folding the 3rd Row. The Incredible depth in the Boot allows atleast 5 suitcases to stand upright effortlessly. Yes the price one pays for it is "Low ground Clearance" But not once the underbody touched the road or probably I was extra careful!
Features
As I mentioned this car is loaded with features to pamper you. The Inside air purifier with the PM 2.5 real time reading was really liked by everyone. The panoramic sun roof was a treat while driving in the hills. It takes a while to get used to it! Initially one is taken aback where is all this light coming from!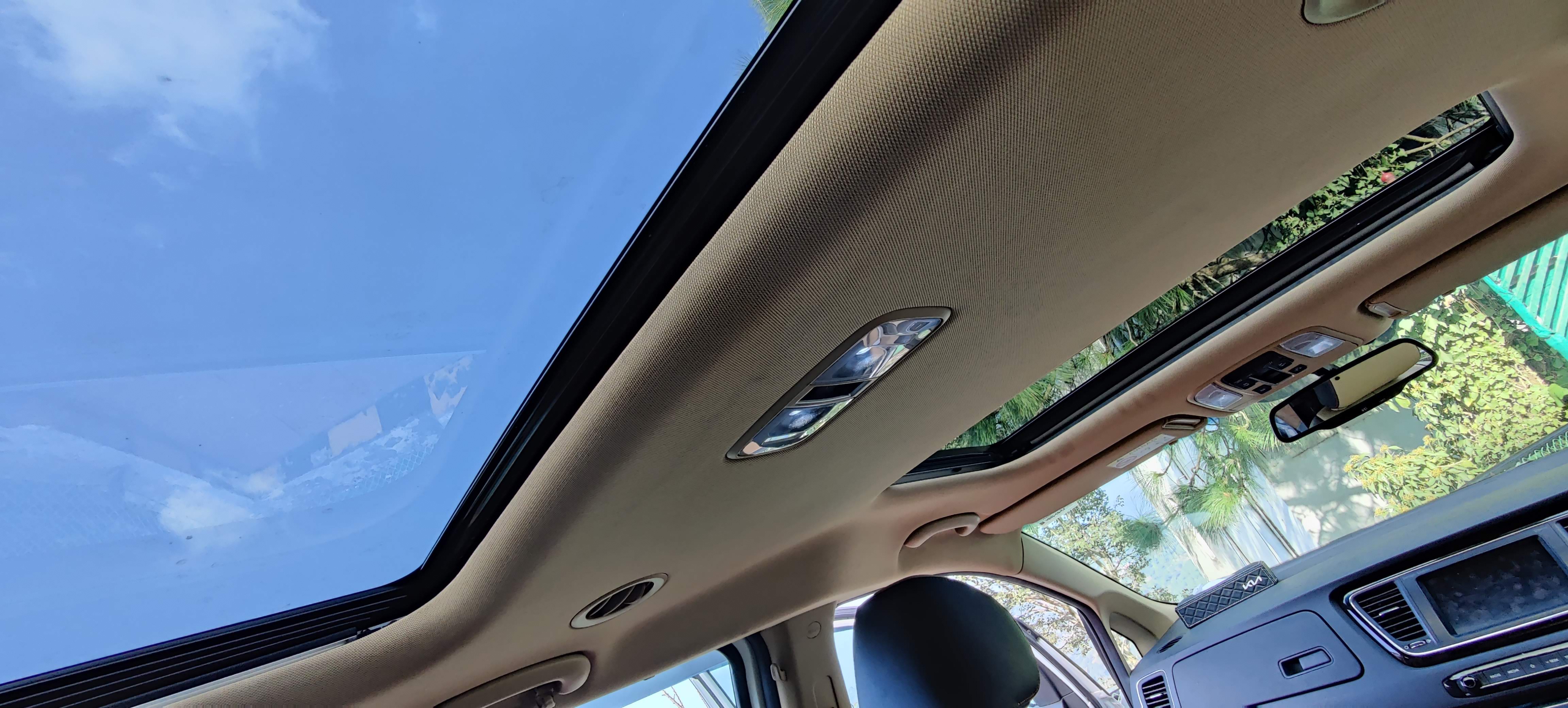 The Exteriors
The Same exteriors which seemed big and unmanageable now felt stylish. The car has a great road presence. It's actually designed like a car. Most other of its rivals seem like vans. You can self drive the Carnival effortlessly. It's welcoming.
It's a Headturner. Even the Colony Guards fall for her!
Heads were rolling within the first km of driving it. The Autorickshaw wala bhaiyas would try to overtake and catch a glimpse. Then when I took it for refueling and had just parked it for the Air , a couple of guys came and started marveling at it. They asked if they can pose with it and I said be my guest. They thanked and said thank you bhaiya, insta pe daalenge bahut likes ayenge!
Even on the highway it was the centre of attraction. In Fact My wife and I had done a social experiment of sorts. We tried to enter Shantiniketan, a posh south delhi colony, from the gate where they only allow cars with RWA stickers. When the Carnival approached the boom barrier, the guard stood up, trying to frantically look for the rwa sticker and not finding it , just lifted the boom barrier, no questions asked and allowed us access that too with a salute! That's the aura of the Carnival.
Summing it up !
The Carnival is a treat to travel in. It's effortless to drive. You actually feel rejuvenated by driving it despite its huge size. It pampers you with space, comfort, luxury and good ambient lighting.
Barring the bumpy ride on the Singhu border and low ground clearance, it's a Palace on 4 wheels!
Carnival is not a Vehicle, It's an experience, Period
UP VOTED
1
DOWN VOTED
0
Popular Search
Popular Topic
Need to get rid of this Chu Chu Sound ....…
7 2